Exterior Lighting Adds Home Safety And Curb Appeal
Exterior lighting is a great and cost effective way to add curb appeal and security to your home. To create the greatest impact for your home, there are options beside simple lighting. A few spotlights can accent your landscaping or showcase your home's façade, while flood lighting provides additional safety.
There are a variety of styles and options to chose from to match the style of your home and your needs:
Path Lights – Lights along the walkway to your home can help ensure a safe walk for you and your guests. Consider a solar path that will turn on as the sun goes down. This will prevent you from having to remember to turn them on when you leave your home as well as conserve energy.
Spotlights– Spotlights can be installed around homes and in yards to light flowers, shrubs, trees and facade. Weather-sealed lights are bestto ensure long-lasting beauty.
Post Lights– Great for creating ambiance or atmosphere for outdoor parties. Works perfect around patios or pools, post lighting can add flair to your home as well as welcome visitors.
Deck Lighting– Installing lights to your deck can add safety near stairs and railings. These flush mounted lights can be walked on without incurring damage.
Floodlights– Floodlights allow you to focus light on a stairway, garage or entry for security. They are often combined with motion sensors, which might even help deter intruders. LED floodlights should be installed 9 feet from the ground or higher to cast a wide light and aren't accessible without a ladder.
There are lots of excellent options for creating great nighttime ambiance for your home, and many homeimprovement storeswill offer classes or videos to help you install these lights yourself. Of course, a landscape architect will be able to plan light placement for the best effect and safety. For recommendations, feel free to contact me, as I work with some great people who would be happy to help.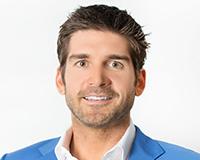 Author:
Rogers Healy
Phone:
214-676-4270
Dated:
October 3rd 2017
Views:
517
About Rogers: Rogers Healy, a native Texan, has lived in Dallas for the majority of his life. Before moving to Dal...